Unity is strength…when there is teamwork and collaboration, wonderful things can be achieved. ~Mattie Stepanek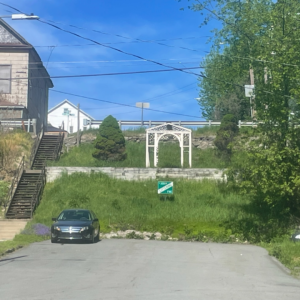 This quote is taking on more meaning for our little town these days. At the Forest City Outdoor Town Action Team meeting, held on Thursday, January 5th, the Center Street Park Project was discussed. The Action Team had a proposal in hand, from Paul Bechtel of McLane Associates, a landscape architecture firm, to proceed with plan development for the Park. Professionally developed plans are a first step and key component to support the Park as the Action Team investigates available grant opportunities and community partners to push the Center Street renovation forward. The Action Team turned to the Greater Forest City Business Alliance for support and collaboration to obtain the needed funding for this initial stage.
In 2022 the GFCBA held 3 fundraising events to raise funds for our community, totaling $10,000. One of those events, the 2nd annual Big Backyard Poker Run, held in July, dedicated the funds raised to the Center Street Park Project. The Poker Run was a success, raising $1700.  The Action Team asked the GFCBA to release those funds to cover the costs of the proposal.  Additionally, a remaining balance of $755 was needed. The GFCBA Board voted yes, unanimously to fully provide the $2455 to retain McLane Associates. The Action Team would like to extend a great big THANK YOU to the GFCBA for their hard work and dedication to our community!
If you would like more information on how you can get involved with the Center Street Park project or either the Forest City Outdoor Town Action Team or the Greater Forest City Business Alliance please email either forestcity.actionteam@gmail.com or gfcba13@gmail.com.
http://www.visitforestcitypa.com/wp-content/uploads/2023/01/GFCBA-Social-Graphics-Instagram-Post-1.png
1080
1080
Forest City
http://www.visitforestcitypa.com/wp-content/uploads/2019/06/ForestCityPA_Logo_White-1-1030x481.png
Forest City
2023-01-13 19:16:28
2023-01-13 19:21:10
Outdoor Town Action Team January Meeting Recap